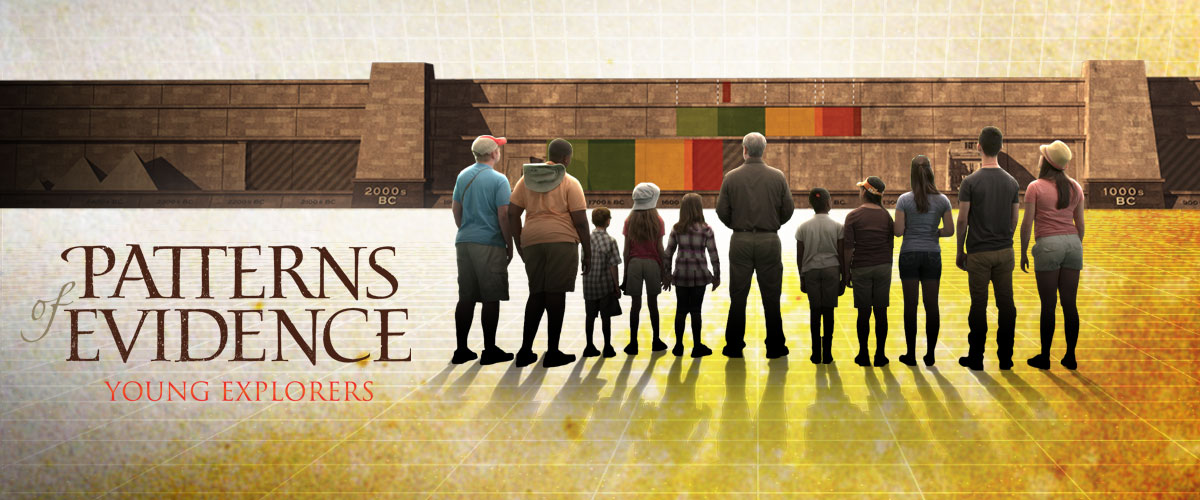 Patterns of Evidence: Young Explorers
A FAITH-AFFIRMING JOURNEY ESTABLISHING THE HISTORICAL CREDIBILITY OF THE BIBLE THAT COULD CHANGE THEIR LIVES FOREVER.
About the Series
A group of ten young people join filmmaker Timothy Mahoney, Director of Patterns of Evidence: The Exodus, on an adventure to investigate amazing evidence that matches the Bible. But there is more to the investigation than Tim lets on. He has a secret device, the Exploration Chamber. This holographic space allows the explorers to talk with real archaeologists, explore ancient evidence and visit the locations in Egypt and Israel where the events of the Exodus actually happened. Before each adventure they discover secret messages directing them to search their Bibles for clues in the text. What the Young Explorers find is a pattern of evidence that matches the Exodus and excites their faith.
Episode 1
The Young Explorers meet Tim Mahoney on a wilderness camping trip and learn about his investigation for physical evidence of Moses and the Israelites' Exodus out of Egypt. As they work together, they discover the importance of the promises God made to Abraham, which predicted the entire Exodus story. By the end of the weekend they all want to join Tim on a quest to explore the Bible. What they encounter is more than they could have imagined.
The Challenge
In today's culture there is strong opposition to the validity of the Bible. These attacks are often aimed at young people in the areas of science and history. Even in some Christian circles there is a trend to downplay the Bible as an accurate historical account from creation onward. However, the Christian faith is uniquely built on God acting through history, and all the Bible's teachings flow from that reality. That is why Patterns of Evidence: Young Explorers is so important today. It demonstrates compelling evidence that affirms the trustworthiness of the Bible.
THE SERIES
Episode 1: The Adventure of Abraham's Promise
Episode 2: The Search for the Amazing Rise of Joseph
Episode 3: The Case of Israelite Slaves and the Forgetful Pharaoh
Episode 4: The Hunt for Ten Plagues and the Exodus from Egypt
Episode 5: The Mystery of Joshua and the Falling Walls of Jericho
* For young Bible explorers ages 8-14.
STAY INFORMED
Want to stay up-to-date with the Young Explorers series, be the first to know about release dates and see behind the scenes photos? Then sign up here.