(Guadalupe). Much of the detailed artwork for the set of the 1923 silent version of The Ten Commandments was created in Hollywood studios and then transported to the Guadalupe Dunes where it was assembled on site. There were 21 sphinxes each weighing 5 tons created for the Avenue to Pharaoh's City. Artists here sculpt the face of Rameses II for one of the four 35-feet-high figures in front of the city of Rameses. THIS IS A COPY PHOTO ON DISPLAY AT THE GUADALUPE–NIPOMO DUNES CENTER, GUADALUPE, CA. (Photo by Don Kelsen/Los Angeles Times via Getty Images)
Pharaoh will not listen to you. Then I will lay my hand on Egypt and bring my hosts, my people the children of Israel, out of the land of Egypt by great acts of judgement. – Exodus 7:4 (ESV)
The Exodus has had a tremendous impact on the world over the centuries – whether one considers that politically, socially, ethically, or theologically. Over the last century it's story has been most dramatically told to the culture in the films made by legendary director Cecil B. DeMille.
Recently another incredible piece, a sphinx head, has been recovered from DeMille's 1923 set of The Ten Commandments. The most recent piece uncovered in the sand dunes of Guadalupe-Nipomo in California, weighs 300 lbs and is largely intact. After the new sphinx is restored it will be placed on display, likely summer of 2018 at the Dunes Center museum in downtown Guadalupe.
The 300 lb plaster sphinx head has been unearthed by archaeologists excavating Cecil B. DeMille's 95-year-old movie set for The Ten Commandments (Image: Cover Images)
Live Science spoke with Doug Jenzen, executive director of the Dunes Center, who said, "It's fortunate that the set was buried in sand. Because that material allows water to drain. If the set were buried in another material, such as dirt, the plaster-of-paris sphinxes would have turned to mush."
The sphinx head is one of 21 sphinxes designed by Peter Iribe for the film. And while the film was black and white, the set was painted in various bright colors to create different tones in gray.
DeMille is well known for his historical dramas. Often with elaborate and extensive sets and large cast sizes. The set for the block-buster silent film was lavish, costing upwards of $1million. In addition to the 15-foot high sphinxes, boasted a facade of the Pharaohs city that was estimated to be 12 stories tall and 720 feet across. It is worth noting that this was before special effects so that if it needed to appear large on film, it had to be made large on set.
The exodus of the Israelites scene from the 1923 silent version of The Ten Commandments (Image: Hulton Archive)
It has been rumored that upon completion of the film DeMille ordered the set to be buried; it was too large to move and too valuable to leave for rival film-makers. It went forgotten for some time. Then in an effort that was started back in the 1980s by some determined film buffs including Peter Brosnan, to locate the nicknamed "Lost City of DeMille", with a clue from DeMille's autobiography…They found it!
Live Science reported that "The first excavation took place in the 1990s, when the Dunes Center, then a part of the Nature Conservancy, had archaeologists comb through the abandoned movie site." Small artifacts were found during this search. It wasn't until another group was invited back to the site in 2012 that the first sphinx head was found buried in the sand.
In 2015, pieces recovered and a reconstruction of the sphinx body were placed on display for fans to see. It was this find that led some to believe that the pieces, while said to have been intentionally buried… appear to in the same placement as they would have been for filming.
M. Colleen Hamilton, a historical archaeology program manager and senior historical archaeologist with Applied EarthWorks in California, commented that "We'd work during the day, and we'd watch the movie at night to figure out what we were finding." They didn't follow the speculations of the past but instead patiently let the evidence speak.
Archaeologists unearth one of the giant sphinxes from the film, "The Ten Commandments."
(Credit: Applied EarthWorks, Inc.)
DeMille's contribution to sharing History through film and art with new methods and few limits placed a fingerprint on much of Hollywood that is felt even today.
Using film to reach a large audience is what the documentary team at Patterns of Evidence has a passion for. Sharing archaeological evidence and interviews with a wide range of viewpoints and different research methodologies allows you the viewer to see patterns emerge.
One person who has seen tremendous value in preserving history for others to learn from is Cecilia (Cece) DeMille Presley, granddaughter of DeMille. She is the keeper of his estate and enjoys working on many projects about him.
In an article written at the time of a book release about the art and epic life of DeMille, co-authored by Presley and Vieira, we learn a little about life as a child for Presley. She stated to her parents at the age of 8 that she was going to live with grandfather and walked a quarter mile to his house.
Cece frequented his movie sets and often traveled with him, including to Egypt with her grandfather for the shooting of The Ten Commandments. Presley told the Orange Register that she would go "Anywhere he was he was happy to have me. He used children a lot (as sounding boards), particularly me because I lived with him and grandmother, but he felt if you couldn't sell a film to a child it was no good."
Cecilia DeMille Presley accompanied her grandfather, director Cecil B. DeMille, on set as a child. (Image Source)
After DeMille's death, Presley became, and still is, very active in film preservation. She currently serves on several boards and enjoys producing documentaries.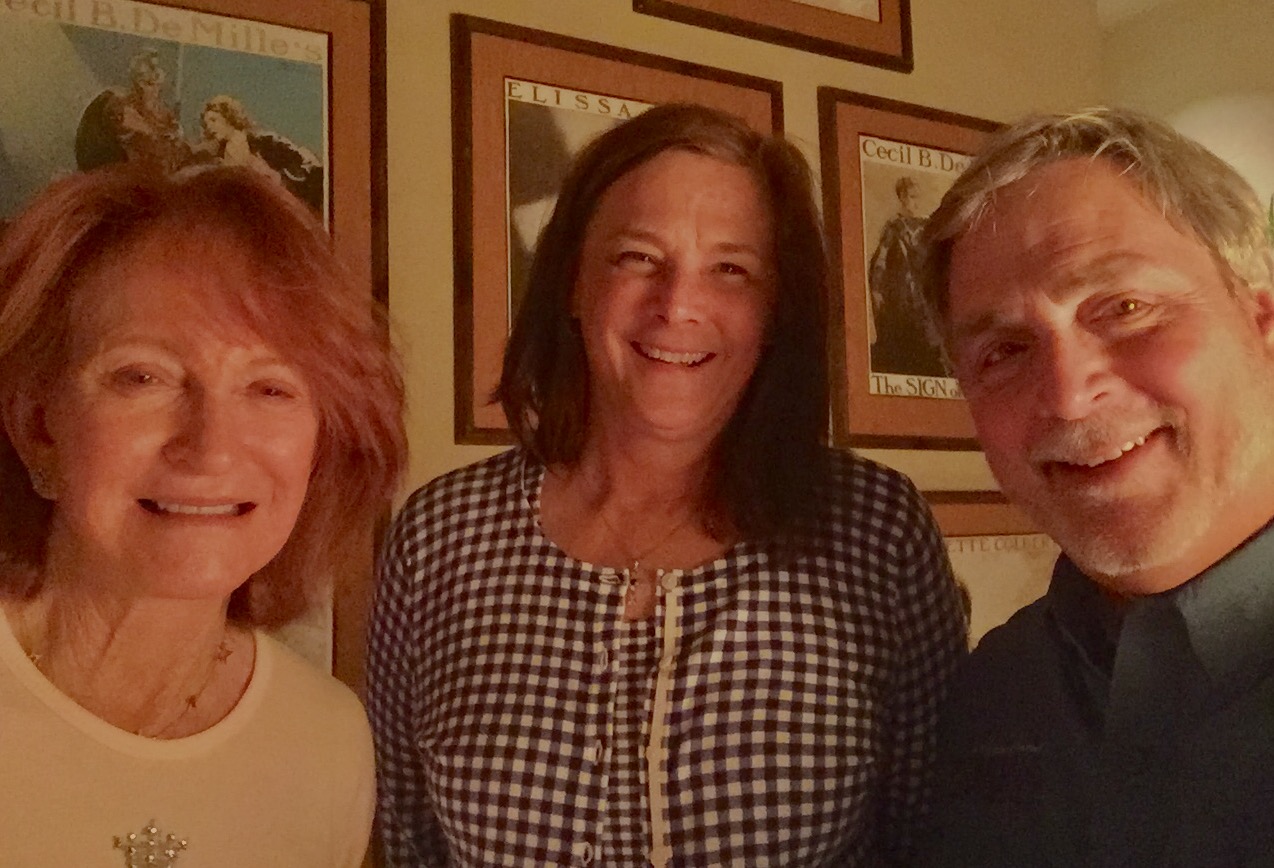 Cece Presley, Jill Mahoney and Tim Mahoney on a recent visit. (Copyright ©2017 Patterns of Evidence, LLC)
This fall, Tim Mahoney and his wife Jill enjoyed a visit with Cece at her home in California. "It was a real treat for me to be able to talk with Cece about her grandfather's films and his great interest in the Bible," said Tim.
"Cece told me that Cecil had a tremendous amount of research conducted around the story of the Exodus. They even published a book by Henry S. Noerdlinger, Moses and Egypt.  Cecil's commitment to excellence in retelling the Bible stories has stood the test of time. Which is why his film The Ten Commandments has been one of the most loved films of all time."
In the forward to Moses and Egypt, Cecil wrote these words, "Motion picture producers have sometimes been criticized for spending so much money on research – in the case of The Ten Commandments more than ever before. I do not agree with the criticism. I consider it money well spent to bring to the screen the results of the work of so many patient and selfless scholars whose labors, with spade and with pen, have helped us make the days of Moses live again. Research does not sell tickets at the box office, I may be told. But research does bring out the majesty of the Lawgiver and the eternal verity of the Law."
No doubt, Cecil's film would not have had an impact without the massive sets he built to recreate the size and scope of Egypt. His labor in presenting the clearest view of the biblical narrative is evident and his work continues to teach so many years later.
Keep Thinking.