Many people have asked us to share more information about our journey in the making of Patterns of Evidence: The Exodus.  This extraordinary 12-year mission resulted in dozens of interviews and thousands of hours of footage.
We are excited to announce that we have compiled the "best of the best" for our 5-disc Collector's Edition Box Set and it is NOW AVAILABLE! 
Patterns of Evidence: The Exodus – Collector's Edition unlocks the mystery of this ancient saga and reveals an amazing pattern of evidence matching the biblical account that may challenge our understanding of history!
Dive deep into the investigation with this 5-disc box set including a DVD and Blu-Ray of the film and over 8 hours of new information on 3 additional DVDs. Discover more evidence for Arrival, Multiplication, Slavery, Exodus, Judgment and Conquest in bonus disc Patterns of Evidence Expanded.
On the disc Digging Deeper into Archaeology and the Bible, we explore topics such as: Would the Egyptians have Recorded an Exodus? and Is There a Bias Against the Historical Credibility of Bible? And many more.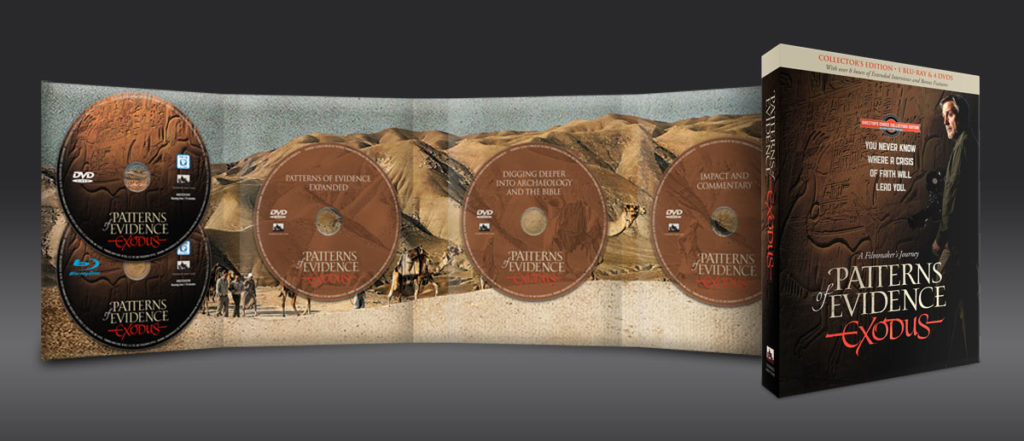 Included on the Impact and Commentary bonus disc is the popular Fathom Event panel discussion hosted by Gretchen Carlson with Eric Metaxas, Dennis Prager, Anne Graham Lotz and Father Jonathan Morris. Also included are extended interviews with many of the film's participants including; Michael Medved, Rabbi David Wolpe, Rabbi Manis Friedman, Rabbi David Hartman, Prime Minister Benjamin Netanyahu, President Shimon Perez, Natan Sharansky, Dr. Walter Kaiser, Dr. Norman Geisler, Dr. Joseph Holden, Dr. Gregory Thornberry, and Pat Boone.