For more than 50 years, the world's most prominent archaeologists and historians have said there is no hard evidence to support the Exodus.
But is there an amazing pattern of evidence matching the biblical account that archeologists have missed for decades?
Robin Calcara
"My brain exploded.  My soul was encouraged."
Kim Temple Kaufman
"It was amazing!…I can't believe my new favorite movie is a documentary."
Dennis Prager
"I think it's going to be a sea change in the way that people understand the Jews in Egypt…It's an enormous achievement."
Carol Williams
"The best money I have ever spent on a movie…It's a masterful, balanced work."
Sabrina Moore
"I didn't need proof.  But I got proof.  Awesome.  Just awesome."
David Asfour
"As a biologist I was very pleased at the straightforward and scientific approach of this documentary."
Dwight Oswald
"This is off the charts GREAT!…The discussion about this research is going to be around for a very LONG time."
Phillip Anderson
"This may have been the best use that I have put 3 hours to in the last 10 years."
Thinker Updates
Dig deeper into fascinating videos, relevant news, in-depth articles, new evidence reports, exclusive bio's and more. Signing up now and receiving these updates directly to your inbox.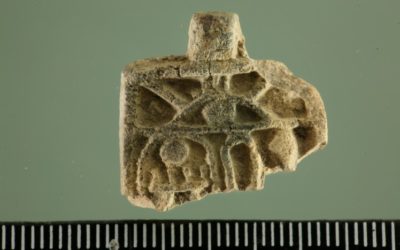 The debate over the dating of the Exodus and Conquest has been fueled by the discovery of an Egyptian amulet in Jerusalem bearing the name of Thutmose III. See more in this week's Thinker Update.
read more